I'm now sitting in New Delhi Indira Gandhi Airport ready to fly back to London. Actually, ready wouldn't be the correct word, I want my Indian adventure to continue 🙂
I arrived 3 days ago and since then it's been a whirlwind immersion into Indian culture, passion & learning. After working with so many people in India over the years it was great to finally meet some of them!  The welcome and kindness from everyone was incredible.
When Shiv & Viney invited me to India Dreamin I asked them what they wanted me to talk about. The answer, ANYTHING. So I got my thinking cap on and then it dawned on me. This month, 20 years ago I started University and so my talk as about how technology has changed over the years, how to find a career you're passionate about, and looking into the future how to keep relevant in a changing world.
Culture
What I loved about this Dreamin event was how brilliantly everyone showed us the Indian culture, in dance, hospitality and fun. The passion and energy from the cultural dancing was infectious and Erica Kuhl did brilliantly keeping the energy throughout her final keynote.
Selfies
Anyone who has met up with Shiv knows he loves having selfies! What I didn't know is that so does the rest of the attendees at India Dreamin 🙂 It was fantastic to see the enthusiasm that everyone had to talk, engage … and take a selfie 🙂 It was a true honour.
Hands-on Training
One of the great moments of the day was doing a Hands-on Training workshop with lots of eager minds wanting to learn more about the Salesforce platform. The aim of the workshop was for the attendees to build their first application in Salesforce.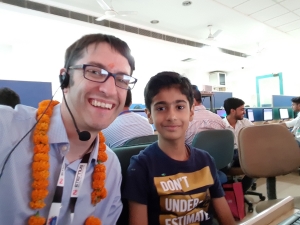 One of my favourite moments of the hands-on was teaching @SFDC_Kid who as was really motoring through the trails! His t-shirt said it all. A genius in the making! so much so I added him to my talk about passion. For me, he summed up the passion in wanting to learn and succeed.
Women in Tech
One of my favourite sessions was the Women in Tech session. Right at the end of the session someone stood up and talked about their challenges with juggling a career and childcare, and the help she had received from a Women In Tech group in India. She talked about how she found the group so valuable to talk to other women with similar challenges. The session also talked about imposter syndrome, something that until a couple of years ago I didn't know anything about. I think its such an important topic to tell to men and women alike.

The Scale
It's hard to describe how big this Dreamin event was. The largest global Salesforce Dreamin event used to be MidWest Dreamin, but no more. India Dreamin had over 1300 registered to attend.
Here is a picture I took from the Stage that gives you a little bit of an idea of the scale of the event.
The Salesforce MVPs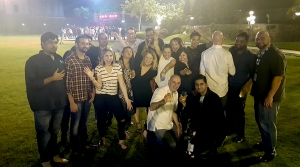 It was also great to so many Salesforce MVPs who had come out to support this inaugural Indian event. I hope this continues! 🙂
I can't recommend India Dreamin more to anyone in India wanting to learn cloud computing but also to all those who present at other Salesforce events around the world. I really do hope Shiv, Vinay and all the organisers do this event next year so that others can go out, present and embrace the India culture.
Thanks everyone! The Vlog is coming soon!!!
#IndiaDreamin17 is a GO! pic.twitter.com/vVYqkod1EL

— Francis Pindar (@radnip) September 30, 2017
https://twitter.com/fab__c/status/913676469251035136
The youngest in the hands on training at #IndiaDreamin17 His t-shirt says it all 🙂 pic.twitter.com/A0NHiAYdwG

— Francis Pindar (@radnip) September 30, 2017
#GLBajaj #IndiaDreamin17 Indian Salesforce Community Conference #CloudCertitude @SFindiadreamin #Salesforce pic.twitter.com/tdL8nHgQMv

— GL Bajaj (@glbajaj) September 30, 2017
Enjoyed #culturalevent in #IndiaDreamin17 with @radnip @Shrey_Shrma @SurbhiT_Sfdc @payalsfdc pic.twitter.com/TIAMNI5f7R

— Surbhi Narula (@NarulaSurbhi) October 2, 2017
Travelled too long to share his knowledge. Down to earth, humble. Had a great time with your session.#IndiaDreamin17 #id17 @radnip pic.twitter.com/YiizOAit8O

— Deepak jaishankar (@Deepakjaishank5) September 30, 2017
Winner of the Kindle from @autorabit !! Thanks so much for supporting the community #IndiaDreamin17 pic.twitter.com/mEItu2hoZ5

— Francis Pindar (@radnip) September 30, 2017
Thanks @Swati_Taunk @JollyPaarth and everyone else that helped during my hands on training #IndiaDreamin17 pic.twitter.com/D2nDTlTdm5

— Francis Pindar (@radnip) October 1, 2017
@radnip & @JitenJoysar pic.twitter.com/h1EuBUVsUc

— Shrey Sharma (@iamshreysharma) September 30, 2017
Look at this Picture.. We Really Enjoyed over the discussion. What will we say about this moment? @SalesforcePhil @radnip @fcathala pic.twitter.com/0oAe38RZeH

— Suraj Gupta (@SurajSFDC) October 1, 2017
https://twitter.com/fcathala/status/914082724721446912
With @radnip #IndiaDreamin17 pic.twitter.com/dl5czkbhel

— Abhishek Kolipey (@AbhikoliK) September 30, 2017
With @radnip #IndiaDreamin17 pic.twitter.com/8FP30xFjyc

— Danish (@Daan_ish) September 30, 2017
@radnip is an amazing person. You can see my happiness in this selfie,
with my company @CCCInfotech pic.twitter.com/uGWfFsOEw3

— Vijay Sharma (@VijayKSharmaG) October 2, 2017
#Salesforce #MVP photo @sfindiadreamin @ericakuhl @hollygfirestone @Tiffani_Bova @SalesforcePhil @VINAY_SFDC @shivanathd @pritamsfdc pic.twitter.com/3YCAXiK20e

— Amy Oplinger ☁️⚡️ (@SalesforceAmy) October 4, 2017