The Salesforce platforms are huge and sometimes it's hard to keep up with all the changes. These Salesforce capability maps are based on my own experience but if you find any gaps please let me know!! I'd love to make them as complete as I can.
Updates: 10/Jun/2020 – Thanks to Bonny Hinners & Mark Tossell for the addition of oData, CMS, Customer 360 Data & Tableau

One diagram I seem to come back to time and again, is the Salesforce Functional Capability Map. Its main benefit is to be able to picture all Salesforce functional capabilities or features across the Salesforce platforms at various levels of abstraction. The key things I love about this particular diagram is that I can answer any of the following questions in one picture:
What is Salesforce's functionality?
What of the Salesforce functionality set have I purchased?
What of the Salesforce functionality have I purchased but not using?
What is my maturity of use on a particular piece of functionality?
What is the maturity of the Salesforce functionality compared with X CRM/Tool/Application?
Where are the cross-overs in Salesforce functionality with other applications in the companies application landscape?
Now EVERY software technology company (who knows what they are doing) has a capability map of their software solution(s). The primary reason because it allows them to compare their product with competitors to identify gaps that could be resolved by building out the product or buying a company that has a solution that fits the gap. Sometimes you can play hardball and ask for their capability map so you don't have to build your own or ask someone from the company who doesn't know how valuable a capability map for the business is to "dig it out". But mostly you have to create them for yourself.
One of the hardest parts of constructing the capability map is working out how to group functions across the different Salesforce clouds as there can be quite a bit of duplication and how to classify those functions into but once that has been created it becomes a very powerful diagram.
Level 0: Salesforce Functional Capability Map
The first level is the highest level of abstraction on the Salesforce Capability Map. This is how I see Salesforce at the highest level. This is very similar to how Salesforce sees themselves with the 360-degree customer circle that you may have seen at Dreamforce. The only real difference is that I have AppExchange or the "App Ecosystem" rather than part of the platform. For me, this is one of the key areas to accelerate your usage and adoption of Salesforce.
Level 1: Salesforce Functional Capability Map
Level 1 is the second level of arbitration. For each of the sections in Level 0 we essentially look at the functionality within each of the areas. I've tried to include all functionality across all the clouds in each section, although I may have missed some functions, the hardest was grouping like functions together. In Marketing, you have Pardot, Marketing Cloud and areas of the core platform with Salesforce campaigns.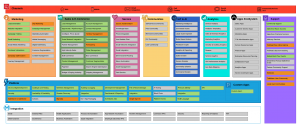 This is the level I use the most for answering the questions above. By colouring or shading each of the cells I can answer a raft of questions in a single slide in a deck. In this example, I've coloured everything green that has been purchased from Salesforce and orange the functionality that is yet to be utilised and could be of value. This is a great way of maximising your investment in Salesforce without spending additional money. As you can see here single sign-on isn't currently being used.
Level 2: Salesforce Functional Capability Map
I have to say, level 2 can be huge. It is the most complex, so I generally use level 2 for defining the scope or rationalising why functions in the same group were not used for some reason. It's also at this point I may start to call out where they are located in Salesforce (Pardot vs Marketing Cloud etc) and what the maturity of the features are (eg email templates in the core platform vs Pardot or Marketing Cloud).
Learn more about Salesforce functionality:
The Salesforce platform is large and having a concise picture of what the functionality is can be hard. In my Salesforce 101 course, I go through each section of the Salesforce Capability Map as well as the history of Salesforce. I also dive into the roles and salaries you can achieve in different parts of the world.
Download the latest Capability Map: PDF, Lucid Chart or Visio from Salesforce 101 course
Download this Capability map: PDF