Since writing this post I have actually decided to move my courses off A Cloud Guru and you can now access them from AdminToArchitect.com.
'A Force Guru' has been more successful than I could ever believe since launching it earlier in the year, thanks SO MUCH for all those people and companies who have supported it!!
When we were planning the A Force Guru site last year we decided to have the AWS and Salesforce training as separate schools, each with a separate site focused on the specific cloud. But the underlying serverless platform would be the same, so users could log in to either school without an issue… BUT. We soon realised the cross-over between the two schools and the benefit of having the two schools together, and this far out weighted having them separate. Also, many customers just didn't realise we did both Salesforce & AWS training. Also, we wanted to train in other clouds including Certified CompTIA Linux+ & LPIC-1 Certification courses, would that be yet another separate site?
After helping run Serverless Conf and also the huge positive response to adding an AWS talk to London's Calling, I realised the value of allowing our siloed communities to collaborate and learn best practice from all of us, across all the clouds. I'm a strong believer that multi-cloud approaches to architecting Cloud solutions will become more prevalent in the years to come, so lets start on the right foot…
So we made a decision…
Bye Bye A Force Guru, hello A Cloud Guru!
We decided to bring the Salesforce courses on A Force Guru into A Cloud Guru so we can teach the world to cloud in one 'A Cloud Guru' school. Now our 250,000+ students can benefit from learning from each other, and learn industry best practice in a multi-cloud approach to learning cloud technologies.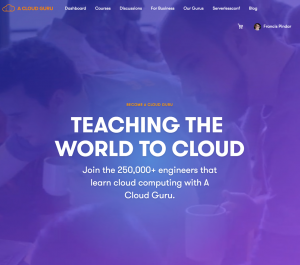 New Website
To celebrate the merger today we have launched the new look A Cloud Guru site, with the ability to see all the cloud courses in one place. All your course tracking and history remain exactly the same, so don't worry about that. The only thing you may notice over the coming weeks is that the videos will be updated to the new A Cloud Guru branding. Now we are in a better position to teach the world to cloud 🙂
If you do find any bugs with the new website be sure to give us a shout, although I think most of them have been squashed now. You'll also find a load more improvements to the platform including around tracking your progress! Let me know what you think!!
If you are interested in getting Salesforce Administrator Certified check out my latest course packed full of best practice and focused on giving you the training you need to pass the Salesforce Certified Administrator Exam!
Thanks so much to the 1000s of students who have supported A Force Guru over the past couple of months, I hope we continue our massive growth in cloud training!