Yes, I know, contentious. Our government is imploding and they are now trying to figure out a route to take. Should we take the Canadian, Norwegian or Swiss setup? who knows its up to the experts. But after the initial shock, I've now taken a look to see how this affects my life and my work (yes I know selfish me). For me the decision wasn't so clear cut as it seemed for many others (although I did vote to stay in). But…
The advantage for global/EU Salesforce projects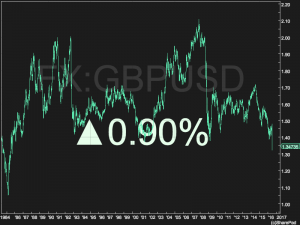 Now there is no guarantees that the pound will stay down but at the moment it has lost 10% against the dollar and similar drops across other currencies. Its even dropped further than it did during the banking crisis, although that may have been slightly different as the banking crisis affected every market. The graph on the right shows the pound since the 80's so you can compare how hard its been hit.
So what does it mean to us working in Salesforce? Ok going abroad at the moment is going to cost us 10% more than it did last week. But conversely we've have also now become 10% more competitive than we did a week ago. For global projects and companies that work across Europe it could now be cheaper to have your development and implementation done from the UK. We are not going to leave the EU for AT LEAST 2 years. So we still have freedom of movement across the EU, no laws are changing it is the same it was last week, the only difference is we're now 10% cheaper! Sounds good to me.
Salesforce Licensing
Now this is an interesting one. When I started working in Salesforce, Salesforce sold licenses in Euros & Dollars. Earlier this year Salesforce changed their pricing and made UK licenses more expensive than US licenses. But ironically due to this, its still actually cheaper to buy Salesforce licenses in dollars rather than pounds.
The biggest change for licensing is for anyone in the UK with AppExchange tools that are charged in dollars, these have now increased in cost.
Did we just leave the EU on an EU life-raft?
Now most people may not know but I work in three worlds: Theatre, Salesforce and investing/trading. This next section maybe a little harsh but its my trading side coming out.
Now this point maybe a little more contentious and political but it almost tipped my voting. It all comes down to one question. "Do you think the EU will survive?". This question hinges on two nations, France and Italy and their debt. Unlike the greek debt being mostly held with other EU countries, French & Italian debt is held more in countries outside the EU. Both France & Italy have slow growth, unemployment, poor public finances, and structural inadequacies. Reform in both countries has been difficult and the political environment seems to be getting increasingly challenging. Italian total real economy debt (government, household and business) is around 259% of GDP, up 55% since 2007, while France's equivalent debt is around 280% of GDP, up 66%. Now when I look for trades I don't really trade in companies with more than a 3x debt to cash ratio, ok these are countries but their debt still still huge. Due to this and the size of their economies it would be impossible for Germany and the rest of the EU to bail them out.
If they failed, due to their size they would pull the Euro and potentially the EU down with them. So if you think this could happen on voting on brexit you really had to ask the question "Do you want to be on the EU life-raft or go down with the sinking ship?". Ok now you could argue that the UK leaving the EU would trigger this to happen anyway but… well.. no comment.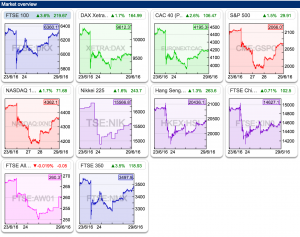 BUT since the decision I've been watching the markets closely to see if I can get any indication that the markets think its a sinking ship too.
Now we are in uncertain times and there is no way to know if this is correct and its a simplistic view (I'm not looking at bonds etc). But as of tonight its interesting to see where the markets are at the moment. The FTSE100 has rebounded back and its actually is now 1.58% higher than it was a week ago. But whats interesting is to see how the FTSE compares to the European and world wide markets. The FTSE100 is currently the only market that has re-bounded, even the FTSE350 has. The FTSE-AllShare has rebounded (although not quite as far), yet the French CAC, US S&P & Nasdaq have yet to rebound. Is it coming true? Are the global markets thinking that the EU is in trouble and the UK getting out and becoming another EU safe haven? or is it just a stronger rebound because of a low currency? Who knows, only time will tell.
Where there is change and uncertainty there is opportunity
I don't know about you, but Brexit has given me a renewed impetus to make something out of the downturn. I've also found a new appreciation of the dollar, and wanting more of it :). Outsourcing of projects to the UK are now more competitive. The great thing about Salesforce is you can work on a Salesforce org anywhere in the world, so there are now new opportunities.
If you an AppExchange partner based in the UK (I know quite a few) usually over 50% (for some 80%+) of your sales are in dollars, so they have been doing quite well out of the downturn seeing an increase of at least 5%. But can you jump on the same bandwagon? creating a Salesforce AppExchange app could be a way to getting your hands on the dollar.
Now I hear you say, but that must be really hard? Well yes maybe, but then if you have configured and created apps in your own Salesforce org then you are already creating apps you, just then need to package the app up and publish it. I created an invoicing app and packaged it at a user group meeting this year in under 9 minutes. Ok you will have Sales and marketing to do but to find out more checkout the Salesforce ISV module on Trailhead.
Ok this is me putting a positive spin on our changing situation, but whatever happens, its time to think positive, have a stiff upper lip and say "Tally-Ho" to our changing Europe.